COW's annual fall dance concert debuts Nov. 16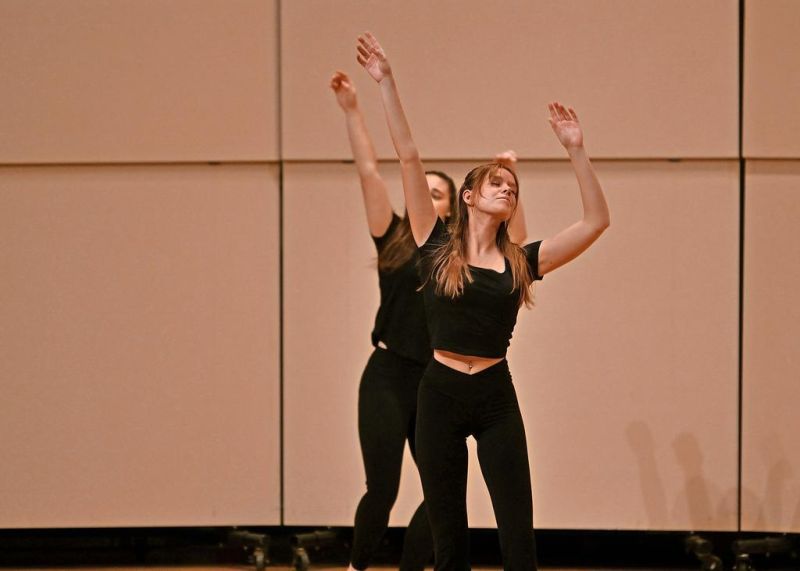 The College of Wooster Department of Theatre and Dance will present its annual fall dance concert titled "Stage Door: Fall Dance Concert" Thursday, Nov. 16 through Saturday, Nov. 18 in the Freedlander Theatre, 329 E. College Ave., at 7:30 p.m.
Directed by Emily Baird, assistant professor of theater and dance, with assistant direction from Liv Mourning, the concert will consist of nine pieces, entirely choreographed, performed, designed and stage managed by students. There also will be a 30-minute preshow piece choreographed by Mourning that experiments with memory, memory loss and repetition.
One of two dance concerts the department puts on each year, the fall dance concert is performed in-the-round, with audience members seated on all four sides of the stage.
"The show is an opportunity for students to develop their skills in choreography, dance, costume design, lighting design, stage management and construction outside of the classroom, and it is an integral part of the theater and dance curriculum at Wooster," Baird said.
Student choreographers include Gracie Shreve, Eleanor Boomhower, Co Clark, Milo Gast, Julian Grimes, Abby Rahz, Josie Fleischel, Alexis Neal, Lauren Segura and Adeline Williams. Each piece in the concert is based on a unique concept and artistic style, with some of these concepts including the passage of time, feelings of isolation and humanity's relationship to the stars.
This concert is free and open to the public, but audiences are encouraged to reserve tickets in advance. Tickets can be reserved starting Monday, Nov. 13. For more information or to reserve tickets, visit the box office in Freedlander Theatre, call 330-263-2241 or visit www.wooster.edu/tickets.