ATI, Wayne College continue to educate despite disruptions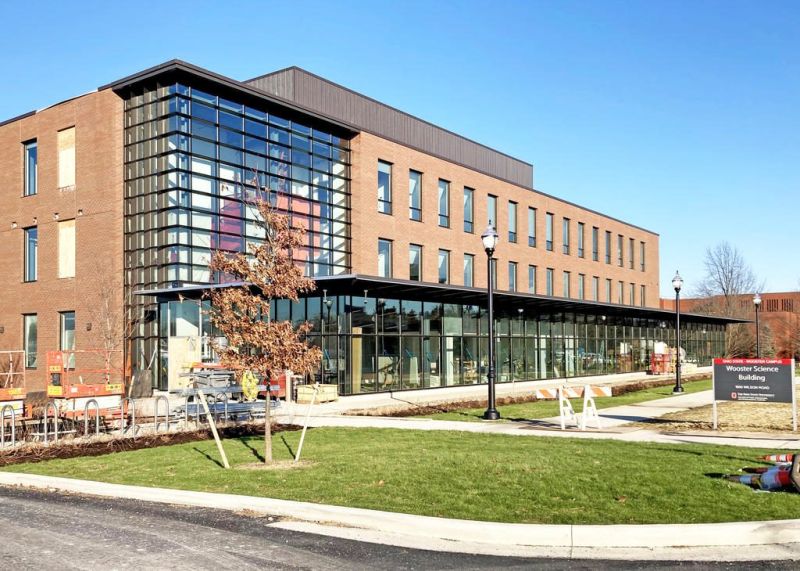 While there has been substantial news coverage of big colleges and universities across Ohio during the pandemic, how are the students faring at local campuses in Wayne County? The fall semester ended on a positive note at Agricultural Technical Institute in Wooster, which expanded its certifications offered. University of Akron Wayne College in Orrville also had a favorable semester, with increased enrollment this fall.
"ATI was founded about 50 years ago, around the premise of experiential learning. We are the only entity in the university that grants Associate of Applied Sciences and Associate of Science degrees," said Dr. Kristina Boone, assistant dean and director at ATI.
About 40% of ATI students are in the applied sciences program, which is "career ready," meaning they go straight into the workforce upon graduation. Boone said demand for students who graduate with training from ATI has continued even during the pandemic.
"Some (examples) we have are greenhouse production, which is increasing in the state, and demand in food processing, as well as across the food sector," Boone said.
It took a lot of planning to get the classrooms this fall and make changes due to the pandemic. "We went from 13,000 seats to 1,600 seats available," Boone said.
Desks needed to be spaced 6 feet apart, and time was added between classes to disinfect the rooms.
Boone worked with faculty to preserve the most important aspects — like labs — for in-person instruction while transitioning most lectures to online for the semester.
"The students wanted to stay in person, so they complied with wearing the masks. One of the things we learned from contact tracing is that spread wasn't occurring in classrooms. It was occurring in other settings. Due to that, we have been able to expand, so about 50% of our classes and labs will be in person this spring," Boone said.
The students will be remote for the remainder of fall semester and then for the first two weeks of spring semester starting in mid-January.
Even with the added expense and planning needed to change the structure of their classrooms, that has not slowed down activities on campus.
"The Science Building opens around Dec. 7. It's been a big investment — $30 million-plus," Boone said about the new building that is being constructed next to Fisher Auditorium. "(One reason) why I love the new building is that our students will be working in the same space with graduate students, post docs and others, and it will broaden their exposure to other approaches. It's the first building on campus that brings together teaching and research functions."
The other exciting piece of news Boone announced was a new partnership with Kubota Tractor Corp. Together, ATI and Kubota have developed the Kubota Tech College training program. This gives students the opportunity to receive several industry certifications as part of their college experience.
"Our students will graduate with industry-recognized credentials," Boone said.
University of Akron Wayne College also is a campus that offers degree and job-training programs for students in Wayne County. They offer five 4-year degree programs and a Master of Social Work.
"We also offer students all of the gen-ed courses that would allow them to be able to transfer to the main university after two years. We have about 2,500 students enrolled now," said Dr. Heather Howley, who was recently named acting director of branch campuses at University of Akron.
"One of the things that is great about the branch campuses is that not every student can afford the traditional college experience. This is a great alternative that still gives our students access to the University of Akron library, tutoring services, etcetera. We typically have students working, and many have full-time jobs or they have several part-time jobs," Howley said.
Similar to ATI, Wayne College had to rearrange all classrooms to have students 6 feet apart. It chose a hybrid model, where all courses would be a mix of in-person and remote. "The students don't need to be physically present for lectures, so I put all those online, and in person we did discussions and activities," said Howley, who in addition to her director duties also teaches communication courses.
In January they will have their first week remote and then start in-person classes Jan. 19.
"Our enrollment has actually increased here at Wayne College. It's hard to say whether or not we'll see declines in the spring," Howley said.
That said, the advantage of Wayne College is the flexibility. "One of the things I think is nice about Wayne College is if you are uncertain about college, you can try it," Howley said. "Go part time, take just a couple of classes. Because we offer those first-year courses both in fall and spring, a student can come either semester and do a little course work and see if it's for them."